IN THIS ISSUE: President's Message | What's New | Did You Know? | Helping Hands | Resources
---
President's Message
Happy 2017 New Year to all of the WOCNCB®-certified nurses and our aspiring specialty cohort. 2016 has been a busy year and I, along with my fellow Board of Directors, would like to reflect on a few of our accomplishments.
Specialty Nursing Certification growth across the professional spectrum continues. We continue to see steady growth within our certification offerings. This is particularly evident with our Baccalaureate and Advanced Practice WOC specialties - not only for single certifications but also for the dual wound/ostomy as well as the WOC tri-certification. Our non-Baccalaureate WTA-C® certification (introduced in Fall, 2015) continues to grow and add to the dynamic and Gold Standard WOCNCB® wound care teams active across many institutions.
In June, 2016, the WOCNCB® was officially reaccredited through the ABSNC (Accreditation Board for Specialty Nursing Certification). This is our 3rd reaccreditation through this independent accrediting body! We have been accredited 10 years with the ABSNC and 15 years with the NCCA (National Commission for Certifying Agencies). This rigorous evaluation and endorsement assure the public of the specialty knowledge, ongoing commitment to professional development and competency for our CWOCN® certifications. Wear your specialty title with pride – you have earned it!
Certification Exam Preparation Aids: We continue to build resources for successful exam certification. The continence flash cards (developed by fellow Continence-certified nurses) were completed in 2016, and they are expected to be available in early 2017. The WOC flash card suite is now complete! In 2017, the Exam Preparation Committee is tasked with Foot Care flash cards. The Advanced Practice Wound, Ostomy and Continence Care Self-Assessment Exam (SAE) questions are now available online – stay tuned for more Advanced Practice exam materials. The WOCNCB® truly desires success for all eligible certificants – please remember to use the content outlines of each exam (found on our website) when creating your study guide.
We heard you about the need to incorporate basic wound care into the Foot Care specialty. The Certified Foot Care Nurse, CFCN® eligibility changes are now live. These include:
24 CEs with 8 allowed in basic skin and wound care,
40 clinical hours with 12 allowed in basic skin and wound care, and
Clinical hours precepted by a CWCN (new), CWCN-AP, DPM or an MD specializing in wound care.
For complete CFCN® eligibility details click here.
WOCNCB® has created a guide outlining the benefits and eligibility requirements needed to become a Certified Wound Care Nurse (CWCN®) and a Certified Foot Care Nurse (CFCN®).These two certifications complement each other and if you are currently certified in one area, you meet most eligibility requirements for the additional certification. Learn more here.
Relationship building and recognition of a job well done are now more important than ever.WOCNCB® is active in social media via Facebook, Twitter, LinkedIn, as well as YouTube and, we will continue to expand our presence. However, we can't do this without you!Consider posting something about why you enjoy your nursing specialty or what makes you get up in the morning after a prior exhaustive day and provide the best patient care you can? Why are you WOCNCB®-certified?What are clinical pearls of becoming certified you would share with our future cohort? We want to hear and share your stories, your successes and your thoughts regarding certification.
I along with my fellow WOCNCB® Board members remain committed to continuing our Gold Standard tradition in WOC specialty certification. We hope you will take a fun leap in volunteering for one of our committees. We are always looking for WOCNCB® certified nurses at all practice levels and all years of specialty practice (from 1 month to 30+ years). We want to hear your voice in decision-making and navigating future avenues of our specialty certification. I hope you will consider the opportunities and the professional development and networking associated with volunteer service. Please visit the WOCNCB® website for more information.
Thank you and best wishes throughout 2017,
Cathryn L. Reimanis, DNP, MS, CNS, ANP-BC, CWOCN
WOCNCB® President
---
Thank you WOCNCB® 2016 Volunteers!
WOCNCB® is thankful for all those who donate their time to board or committee service. There are so many that contribute to the success of this organization. We would like to give our heartfelt thanks to those volunteers whose service ended in 2016:
Laurie L. Ellefson, BSN, RN, CWOCN, CFCN, (Mount Sterling, Wisconsin), 2010-2016, Board of Directors, (Member: 2010-2013; President: 2014-15; Immediate Past President 2016)
Lois Fink, (Fort Collins, Colorado), Board Public Member, Marketing Committe Co-Liaison, 2015-2016
Lisa Z. Hill, MSN, RN CWOCN, (Ambler, Pennsyvania), Item Review Committee, 2012-2016
Linda S. McKenna, MSN, RN, CWOCN, (Madison, Wisconsin), Professional Growth Program Committee, 2010-2016
Kathy Porras, RN, MSN, APRN-BC, CWON-AP, CCCN, (Munster, Indiana), Advanced Practice Committee, 2013-2016
Jessica Simmons, BSN, RN, CWCN, COCN, (Belvidere, Illinois), Marketing Committee, 2012-2016
Julie Yerke, RN, CFCN, (Rome, Georgia), Foot Care Exam Committee, 2013-2016
---
Congratulations to Odell Compton RN, BSN, CWOCN®
2016 Nurse of the Year Odell Compton pictured with Vice President
and Chief Nursing Officer Nathan Wilson.
An excerpt from Compton's nomination: "Odell has worked many years at Baptist Health La Grange and is probably one of the most valuable nurses who provides care on all units. I think it is time she is recognized as the Nurse of the Year to let her know she is highly valued."
If you have an achievement that you are especially proud of, or if you know a colleague who does, let us know!
---
Nominate Your Employer!
WOCNCB® 2017 Employer Recognition Award
Accepting applications through February 15, 2017
Nominate your employer for the 2017 WOCNCB® Employer Recognition Award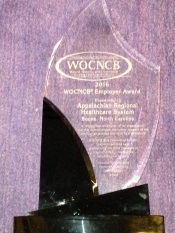 The WOCNCB® Employer Recognition Award is awarded annually to honor an organization that has demonstrated exemplary support of the certification process in WOC nursing.
To nominate your employer:
Only current WOCNCB® Certificants can nominate an organization.
The application and full details on the submission guidelines can be found on the WOCNCB® Web site at http://www.WOCNCB.org/about-us/employer-recognition-awards



---

PGP Webinar now "On Demand". Is it time to recertify? Consider recertifying using the PGP Portfolio!
PGP Webinar now available "On Demand". The webinar will introduce you to the Professional Growth Program (PGP) portfolio recertification process. The PGP portfolio measures knowledge in your specialty area(s) (WOC or Foot) and documents progress from novice to expert.
Get started! Click here to access the PGP Webinar On Demand.
Note: Requirements for AP Recertification are different than PGP recertification. Go to Recertification/Advanced Practice for details.
Additional PGP resources:
WOCNCB® provides online resources to guide you through the PGP process. Click on any of these helpful tools to get started:
Remember recertifying candidates with multiple specialties may select to PGP or Exam for each specialty. This is indicated at the time of portfolio submission and is considered "combination recertification". Learn more here.
---
Coming in February Official Continence Flash Cards in 2017 - Stay Tuned!

Be Better Prepared to Pass the Wound Ostomy and Continence Care Exams - Study with the OFFICIAL WOCNCB® Flash Card Sets! Each set is only $44.95 and contains just over 200 questions developed from the Exam Content Outlines.

Order Wound and Ostomy Flash Cards today!
Click the following to place your order
---
Welcome New WOCNCB® Board Members
| | | |
| --- | --- | --- |
| | | |
| Stanley J. Cooper Public Member | | Jessica Simmons, MSN, APN, FNP-C, CWON, DNC |
2017-18 WOCNCB® Board Members

Front row left to right: Jessica Simmons, Clay E. Collins, Cathy L. Reimanis, Jill M. Trelease, Stanley J. Cooper, Michael J. Kingan. Back row left to right: Jeannine L. Thompson, Kathleen M. Kump, Gail G. Erickson, Phillip J. Botham, Chenel Trevellini. Click here for more information on current Board of Directors.
---
New in 2017 WOCNCB® Certification Exams will use Scaled Scoring
WOCNCB® is excited to announce the transition to reporting candidate scores on a common scale, or scaled scoring. Many test candidates have expressed a desire for scaled scoring, and this development is the culmination of years of planning by the WOCNCB®. Castle Worldwide, Inc., the testing company has provided a detailed explanation on Scaled Scoring, Read article here.
Please feel free to contact WOCNCB® for additional information.
---
3 WOCNCB® Certified Nurses have received the ANCC National Magnet® Nurse of the Year Award
Since the first Annual Magnet Nurse of the Year Award given in 2011, the following WOCNCB® certified nurses have been selected and honored by receiving the National Magnet Nurse of the Year Award!
2011 - Vittoria Pontieri-Lewis, MS, RN, ACNS-BC, CWOCN
2013 - Christopher Tod Brindle, MSN, RN, CWOCN
2015 - June Amling, MSN, RN, CNS, CWON, CCRN
ANCC is currently accepting nominations for the 6th annual National Magnet Nurse of the Year awards program, we hope to add more certificants to the list! See Details.
---
You save when you apply for two or more certifications at the same time!
The WOCNCB®'s application fees are competitively priced and the fee structure includes substantial savings for nurses who apply for two or more certifications at the same time.
Application Fees:
| | |
| --- | --- |
| One Specialty: | $375 (equates to $75/year x 5) |
| Two Specialties: | $490 (equates to $98/year x 5) |
| Three Specialties: | $590 (equates to $118/year x 5) |
| Four Specialties: | $650 (equates to $130/year x 5) |
You have options! Once your application is submitted you have 12 months window to complete all specialties. Recertifying candidates with multiple specialties may select to PGP or Exam for each specialty. This is indicated at the time of portfolio submission and is considered "combination recertification". Learn more here.
---
All WOCNCB® official announcements are sent via email
WOCNCB® is not the WOCN Society. Update WOCNCB® with your contact information in one simple step!
Remember your certifications are with WOCNCB®. Please keep both WOCNCB® and the WOCN Society up-to-date. Don't risk a certification lapse! All WOCNCB® official announcements are sent via e-mail only. If you have changed your e-mail address in the last 5 years, please contact the WOCNCB® office at info@wocncb.org. Help us help you to keep your contact information up-to-date to receive recertification reminders! WOCN Society does not provide WOCNCB® updated contact information.
Please keep your email address Up-to-Date!
---

Volunteer and earn PGP Points! Are you going to a WOCN Regional Conference?
If you plan on attending a regional conference, please consider volunteering and promoting the WOCNCB®. To make it easy, WOCNCB® will send you a "Showbox" containing promotional material and resources.
As a bonus, you will obtain two PGP points (teaching category) under any specialty! To request a Showbox contact: info@wocncb.org or call (888) 496-2622.
---
WOCNCB® Resources
Tools to Help You Prepare for Exams:
Be better prepared to pass the Wound, Ostomy and Continence Exams. Follow the links to the WOCNCB® website below:
---
Represent - Wear Your Credentials with Pride!
Market yourself and show off those hard earned credentials. Find what suits your certifiable style! Visit the WOCNCB® website to view the entire collection.
WOCNCB® Specialty Badge Holder Pins!
These enameled pins will identify you as an expert in your specialty. Gold tone with enameled background, and an open area for your badge or hanging your eyeglasses. Actual size 1/2" x 3/4".
To order click here.

---
WOCNCB® would like to recognize our certificants for their accomplishments!
If you have an achievement that you are especially proud of, or if you know a colleague who does, let WOCNCB® know! WOCNCB® is dedicated to highlighting the successes of our incredible nurses through social media, email updates and newsletters.