---
Presidents Message
I hope you all are having a fantastic summer and had a safe 4th of July holiday! All I can say is that it has been a busy summer for the WOCNCB®. This has also been a time for celebration and some big announcements. We had the opportunity to celebrate our 45th anniversary of being The Gold Standard for Certification®. In January 1978, International Association for Enterostomal Therapy (IAET) voted to establish a certification committee/board to plan and implement the certification of new graduates of accredited ET Nursing Education Programs (ETNEPs). In 1978, the certification committee/board voted to become a separate body from the Accreditation Committee and call themselves the ET Nursing Certification Board (ETNCB). The credential would be Certified in Enterostomal Therapy Nursing (CETN). As a result, the Certification Board was created and in March 1993, the ENTCB changed to WOCNCB®, as it is known today. Purple and gold cupcakes were served at the WOCNCB® booth during the WOCNext Conference to commemorate the founding of the certification board and its long history of offering certifications for nurses in the wound, ostomy, continence, and foot care specialties.
In addition to celebrating our anniversary, we presented the 2023 WOCNCB® Employer Recognition Award winner. Each year the WOCNCB® recognizes an employer that not only observes the value of certification but also demonstrates exemplary support of the certification process of WOCNCB® wound, ostomy, continence, and foot care specialty nursing. Congratulations to Northside Hospital in Atlanta Georgia! I would like to share some highlights from their nomination that really caught my attention. They have 19 CWOCNs® and CWONs® employed. In addition, their department is led by a CWOCN® who understands the role of the WOC nurse and helps to improve patient access to the WOC nurse. Northside Hospital also recognizes the leadership capabilities with the WOCNCB® certified nurses and views them subject matter experts, consulting on budgetary items, policies, process improvement task forces, nursing education forums, and shared governance. This facility demonstrated multiple ways to show their appreciation and support for certification by including the need to be certified in the WOC Nurse Specialist's job description as well as helping the nurses attend conferences, including WOCNext, to obtain CEUs and maintain their certifications. Other means of showing their appreciation to this group of nurses includes celebrating them during Nursing Certification Week through newsletters, closed circuit TVs, and emails. As a result, the WOC Nurse Team at Northside Hospital report having high job satisfaction and retention rates!
We also had a very big announcement to make regarding the new PGP requirements coming in January 2024. PGP is a great way to recertify as it allows you to demonstrate your knowledge and underscores your professional growth over a 5-year period. Many PGP activities require knowledge that goes beyond the entry level of certification. While the PGP is an alternative to taking an exam and a preferred method of recertification for many, we know that some certificants also find the process can be confusing and may avoid attempting PGP. To remove barriers to recertification through PGP, the requirements for PGP will become more streamlined. Scroll down for more details on the changes. This was a large project to undertake, and I want to thank the PGP committee and Board Liaison, Linda McKenna for all their hard work on creating a workable solution to update the PGP process to meet the needs of WOCNCB® certificants.
I am also thrilled to announce one last milestone of the WOCNCB®. We have certified 10,000 nurses as of June! Congratulations to Jennifer Short who became a CWOCN® in June and was the WOCNCB's® 10,000th WOCNCB® certified nurse. We sent Jennifer some WOCNCB® merch to celebrate with us on reaching this mark.
For those of you who were able to attend the WOCNext Conference, it was great to see you and we enjoyed visiting with you at our booth. I enjoyed seeing so many people stop to take a selfie using the WOCNCB® frame and some of the text bubbles. My personal favorite is "I'm a MacGyver of Nursing" because it tells people that I am a CWON® without telling people I'm a CWON®. The phrase is spot on because we really are an innovative bunch that often solves problems with limited supplies and resources. Do you have a clever way to tell people you are a WOCNCB® certified nurse without telling you are a WOCNCB® certified nurse? If so, let us know and it may find its way onto a text bubble that we use!
In the meantime, stay safe and enjoy your summer!
Kind regards,
Jessica Simmons, DNP, APRN, FNP-C, CWON®, DNC
WOCNCB® President
---
Award Spotlight
2023 Employer Recognition Award
Congratulations to Northside Hospital - Atlanta, Georgia!
From left to right: representing Northside Hospital: Beth Blankenship, BSN, RN, CWOCN®, Angela Dye, BSN, RN, CWOCN® and Jessica Wood, BSN, RN, CWOCN®.
WOCNCB presenting award to Northside Hospital. Above from left to right: WOCNCB Board President Jessica Simmons, DNP, APRN, FNP-C, CWON®, DNC, Jessica Wood, BSN, RN CWOCN®, Beth Blankenship, BSN, RN, CWOCN® and Angela Dye, BSN, RN, CWOCN®.
The award was presented during the 2023 WOCNext Conference in Las Vegas, Nevada at the WOCNCB® booth. To read the winning essay and see the entire Northside Hospital Wound Ostomy Continence Nurse Team click here.
---
WOCNCB® celebrates 45-year milestone and 10,000th certificant!
In June, Jennifer Short earned her CWOCN® credential and was our 10,000th certificant! Currently WOCNCB® has over 10,000 certified nurses, to celebrate we gave Jennifer WOCNCB® Swag! All WOCNCB® merchandise can be ordered from our website.
---
Conference Highlights
WOCNext 2023
---
PGP Update
NEW PGP PROGRAM REQUIREMENTS LAUNCH JANUARY 2024
Consider Recertification by PGP and Skip the Exam!
WOCNCB® will launch a new, streamlined PGP system with portfolio recertification requirements that will make more nurses eligible to recertify without taking an exam.

The biggest change is a NEW PRACTICE HOURS points category allowing nurses to get up to 40 points (half of the 80 required) for practice hours in direct patient care, academia, industry, or administration/management.
---
Listen to new PGP Podcast!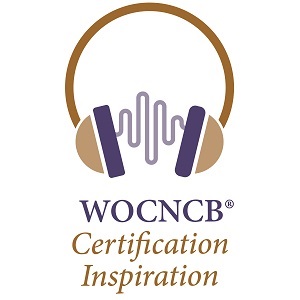 Listen to our latest podcast: New Streamlined PGP Requirements – What you Need to Know!
Linda McKenna, MSN, RN, CWOCN® and Lynette Gunn, APRN, GCNS-BC, CWCN®, CFCN® discuss the new 2024 Professional Growth Portfolio (PGP) requirements. The streamlined requirements will make more nurses eligible to recertify without taking a exam!
---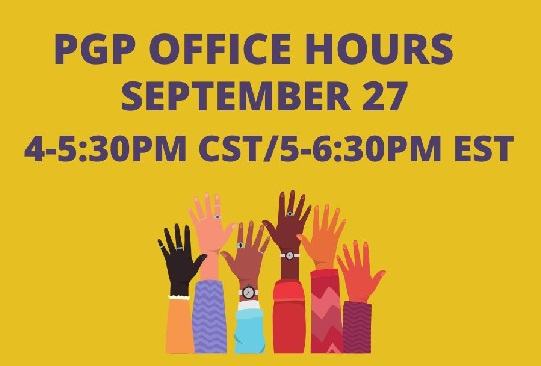 Join WOCNCB® volunteers for PGP Office Hours, where you can ask questions in real time and learn more about the 2024 PGP requirements and resources.
Join Zoom Meeting:
https://us02web.zoom.us/j/83685619793?pwd=Y1hqaGlvQStYaU9rRlNMQkR3ZE5JUT09
Meeting ID: 836 8561 9793
Passcode: 411130
Visit our website to download the 2024 PGP Handbook, tutorials, FAQs and more by visiting http://www.wocncb.org/pgp/. 80 points will still be required for each portfolio.
---

The Value of the WOC Nurse: A WOCN® Quality Improvement Project is a major initiative that aims to support and PROVE the value of wound, ostomy, and continence (WOC) nurses in our community. Data to draw important comparisons and conclusions hasn't existed in our field—and the WOCN Society is ready to change that!
WOCN is asking all WOCN members to help gather this crucial information. Visit wocn.org/the-value-of-a-woc-nurse for more details, instructions, and resources.
---
Save The Date!
Look for WOCNCB® at the ANCC National Magnet/Pathway Conference: October 12-14 in Chicago, IL. Learn more and register here.