Foot Care Certification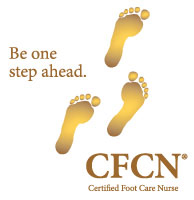 Foot care assessment, intervention, and patient education are critical for managing the foot issues faced by so many patients. That is why the Wound, Ostomy and Continence Nursing Certification Board created the Certified Foot Care Nurse (CFCN®) credentialing process.
Since 2005, over 1200 Certified Foot Care Nurses have elevated the quality of foot care for patients in hospitals, long term care facilities, podiatry offices, and in their own homes. The increased credibility, recognition, and authority conveyed by CFCN certification have led to greater opportunities to develop foot care interventions that improve patient wellbeing and enhance risk management.
Validate your knowledge, skills, and abilities by becoming a Certified Foot Care Nurse.
Considering certification? Be sure to Download Candidate Examination Handbook


The Candidate Handbook is a 56 page document.
The Candidate Exam Handbook details:
eligibility requirements
the application process
exam content
general WOCNCB policies.

(Adobe Acrobat Reader is required. Click icon to install.)
Review Eligibility and Exam Information