How to Get Involved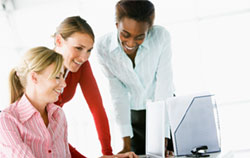 Board and Committee participation is not only a great way to contribute to the WOC specialty, but will also enhance your personal and professional growth.
We know you are busy. That is why service opportunities with the WOCNCB are available at different levels with a variety of time commitments.
Board Service
Members of the Board of Directors serve four-year terms and conduct business by conference call and e-mail, with one or two face-to-face meetings per year. Detailed information is available on the Board Service page.
---
Committees
Committee members serve for a minimum of two years, with some committees requiring four years of service. Business is conducted by conference call and e-mail. With seven different standing committees of four or more members each, there are many opportunities to serve the WOCNCB. A description of each standing committee and a volunteer form can be found on the Committees page.
---
Item Writing
Less time to commit? Consider writing an "item," which is a test question for a WOCNCB examination. We encourage you to draw on your current clinical experience to write items. Anyone can submit items, and no items will be refused. Every item is reviewed and edited as necessary by the Examination Committees, and all submissions become the property of the WOCNCB.
You can submit your items to the WOCNCB National Office using this Item Writing Form. For a hard copy form, call the National Office at (888) 496-2622. Please follow these item writing guidelines.
---

Elections
Watch this space for current information about WOCNCB elections and opportunities to serve.