Checklist for Consumers
Questions to Ask Your Doctor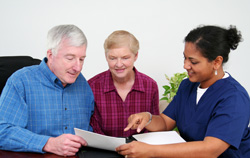 These important questions can help you make the right decision regarding your nursing team.
Is the nurse taking care of you board certified through an accredited and independent, national certifying body?
Is all of your healthcare information kept in a confidential location between visits?
Does the nurse provide you with patient education during or after each visit?
Is your nurse knowledgeable regarding your wound, ostomy, continence or foot care questions?
Does your nurse have a network of certified professional counterparts to provide additional information and resources when needed?
WOCNCB certified nurses have these credentials:
CWOCN® - Certified Wound, Ostomy, Continence Nurse
CWCN® - Certified Wound Care Nurse
COCN® - Certified Ostomy Care Nurse
CCCN® - Certified Continence Care Nurse
CWON® - Certified Wound Ostomy Nurse
CFCN® - Certified Foot Care Nurse
Click here to learn if your nurse is WOCNCB certified.