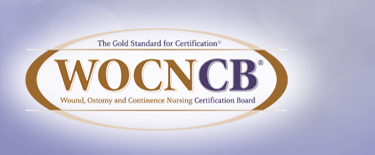 Special Announcements
Welcome VA and DoD Nurses!
We recognize your commitment to provide the best care to our military, veterans, their family members and survivors. In honor of your commitment, the WOCNCB is offering you a 30% fee reduction for your initial wound, ostomy, continence, or foot care examination(s). That's a savings of more than $100 on WOCNCB exams.
Here's what you need to do to take advantage of this special discount.
Check your eligibility for WOCNCB Certification.

Download the Exam handbook, and if you qualify, complete the online application.

You'll save more than $100 in a rebate for certification fees. Click this "Fees" button to review the most current exam fees.

Apply online and mail your coupon to:

WOCNCB
555 East Wells Street, Suite 1100
Milwaukee, WI 53202
Fax: 414.276.2146

Once your application is approved, you can schedule your exam(s) with CASTLE.

The WOCNCB office staff is also available to answer your questions. Contact us at 1-888-496-2622 or e-mail to info@wocncb.org.
Last updated: February 17, 2014
---
WOCNCB Heroes Helping Heroes Program
For U.S. Military Veterans
Heroes Helping Heroes
As members of a unique specialty field of healthcare, wound, ostomy and continence nurses perform heroic acts every day, but our service cannot compare with the service provided to our country by members of our armed forces.
The WOCNCB is proud to support the veterans of the U.S. armed forces by offering certification exam fee discounts to qualified U.S. military veterans, extraordinary heroes willing to give so much for others.
The program provides a 30% fee reduction for first-time wound, ostomy, continence or foot care certification examinations. Depending upon the number of examinations you apply you can save more than $100.
To apply for the discount you must
Thank you for your service!
Last updated: February 17, 2014
---
Disaster Relief from WOCNCB
Certificate Replacement, Exam Extension and Benevolence Fund
For a number of years the WOCNCB® has reached out to its certificants in need with a helping hand. We know that our members are sometimes dealing with the consequences of either personal or natural disasters. Recovering from a crisis in your life takes months, with immediate needs being addressed first. Whether it was a hurricane, tornado, flooding, fire or some other natural or personal disaster, we want you to know that the WOCNCB® understands and wants to be there for you.
While we can never replace treasured keepsakes like family photos and refrigerator works of art, we can replace your WOCNCB® certificate. If yours has been lost or damaged please contact the office at 1-888-496-2622 or info@wocncb.org and we will be happy to send a new certificate to you. It is a small gesture but will hopefully place you one step further along your journey of putting your life back together.
The WOCNCB® is committed to supporting each and every certificant. For those persons who qualify we grant extensions for testing, and through our Benevolence Fund, assist with meeting exam or PGP fees.
Your WOCNCB® is here for you. We welcome the opportunity to help you so that you, in turn, can continue to help others.
Last updated: March 11, 2020
---
Please honor our 30 year Certificants
Last updated: February 20, 2020
---
Scantron monitoring & responding to impact COVID-19 is having on WOCNCB testing operations.
Scantron monitoring & responding to impact COVID-19 is having on WOCNCB testing operations.
Scantron will update site closures and assist candidates who require rescheduling on a daily basis. All updates posted at https://www.scantron.com/site-closures-delays/.
Last updated: March 12, 2020
---
New online CFCN Preceptor directory!
Last updated: September 1, 2021
---
UOAA's Ostomy & Continent Patient Bill of Rights endorsed by WOCNCB®
Last updated: August 16, 2021
---